Washington D.C. 2022
Day 5
After all the talk about activism and changemaking yesterday, it's fitting that today we headed to Capitol Hill. As for breakfast . . . well, we've talked about breakfast enough for a six-day blog about a class trip to DC. The kids were well fed. We promise!
Since we were on the way to the "building where it happens," we began our morning by looking at contemporary issues and topics Close Up provided us that Congress is currently debating and attempting to create policy for. This Congressional deliberation workshop had the students broken into five focus groups: economic inequality, climate change, health care, criminal justice, and education. After having some time to discuss these issues in their small groups, they came together to present their thoughts on why these issues should be prioritized in government and deliberated about what should be prioritized first.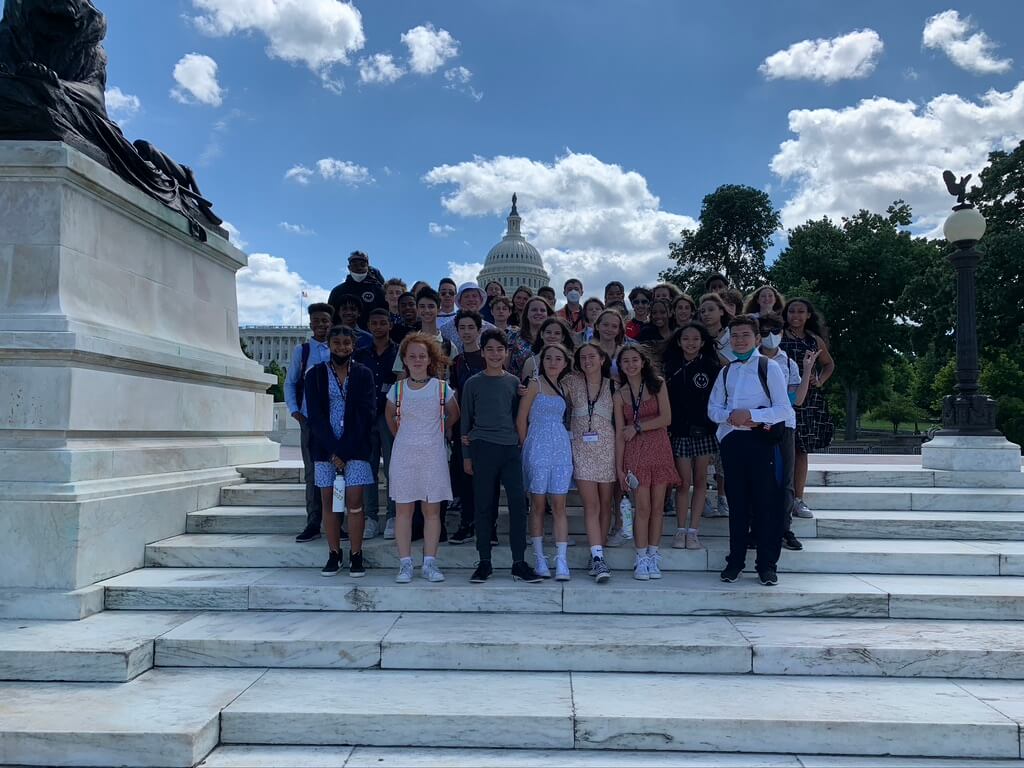 Noah:  "Providing education to more people. This will affect all the issues we're discussing."
Olivia:  "Climate change must be prioritized because soon it will be irreversible."
Dawni:  "I agree. The other issues are extremely important, but if the climate is ruined, the other issues won't matter. We will have time, hopefully, to address them later. As for education, that will take too long, especially when it comes to climate change. By the time people are fully educated on climate change and want to do something about it, it will be too late."
Sam S: "Criminal justice reform should be prioritized. We can do something about it now. And, people will like that and re-elect us. Then we can also address other things."
Sam M:  "Better healthcare needs to be prioritized. We can help people now. We can help them stay alive. Those people can help us solve those issues."
Gavin:  "What happens if kids aren't educated? What happens if they don't know the issues? They need to be knowledgeable and smart. That will help our future. That will help them vote for better issues and presidents."
Leila:  "Our group decided to change to climate change instead of education. It will soon be irreversible. It's essential we do something impactful now to save not just the US but the entire world."
Aylin:  "Climate change affects everyone. These other policies are centered on what can be done in the US about certain issues. Combating climate change can be useful for everyone in the world and help the US with making more friends with countries."
After wrapping our discussion, we headed to Capitol Hill. Our meeting with Senator Dianne Feinstein's office was canceled, but that allowed us some time to walk over to the Japanese American Memorial to Patriotism during World War II. Our kids felt a strong connection to this monument immediately, having had many great opportunities to listen to Mrs Nakawatase, Mr Umekubo, and the various other faculty members and Japanese Americans in our school community whose families and friends were directly affected by the US government's decision to forcibly evacuate and intern over 100,000 men, women, and children of Japanese ancestry in guarded, isolated camps around the country a little over 80 years ago.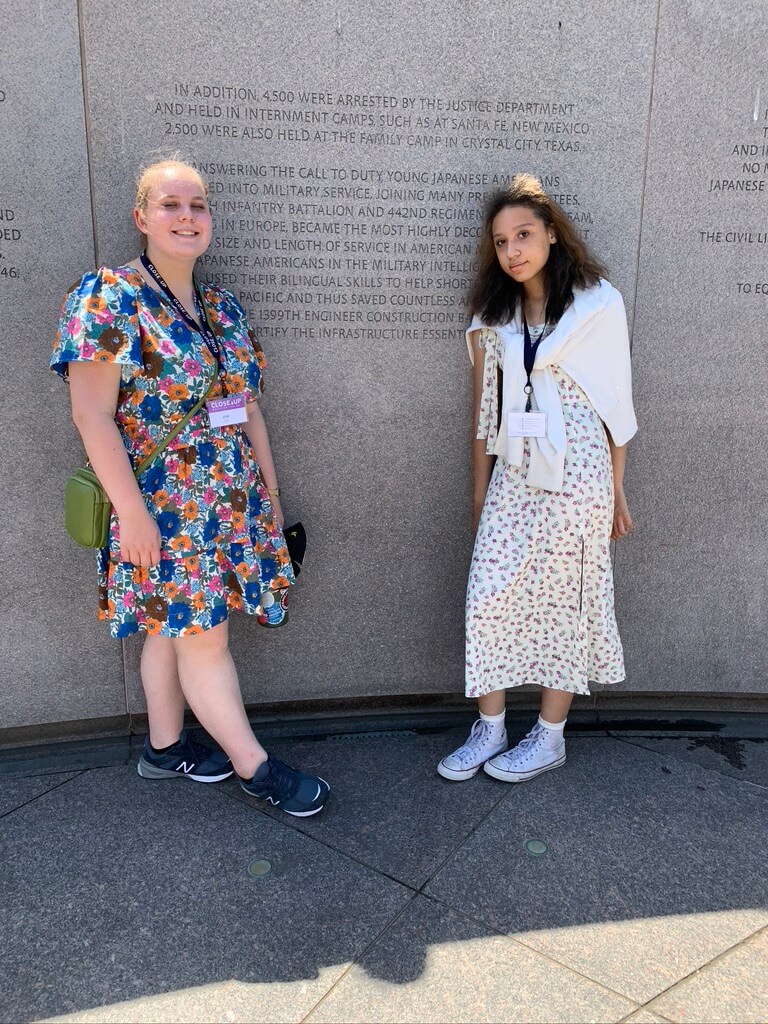 From there we walked to the Library of Congress, which is absolutely stunning! The kids marveled at the artwork and sculptures adorning the halls. (Zoë literally shrieked quietly in anticipation.) Students viewed the reading room with jealousy—since they weren't allowed in without an official reader identification card—and toured the exhibits.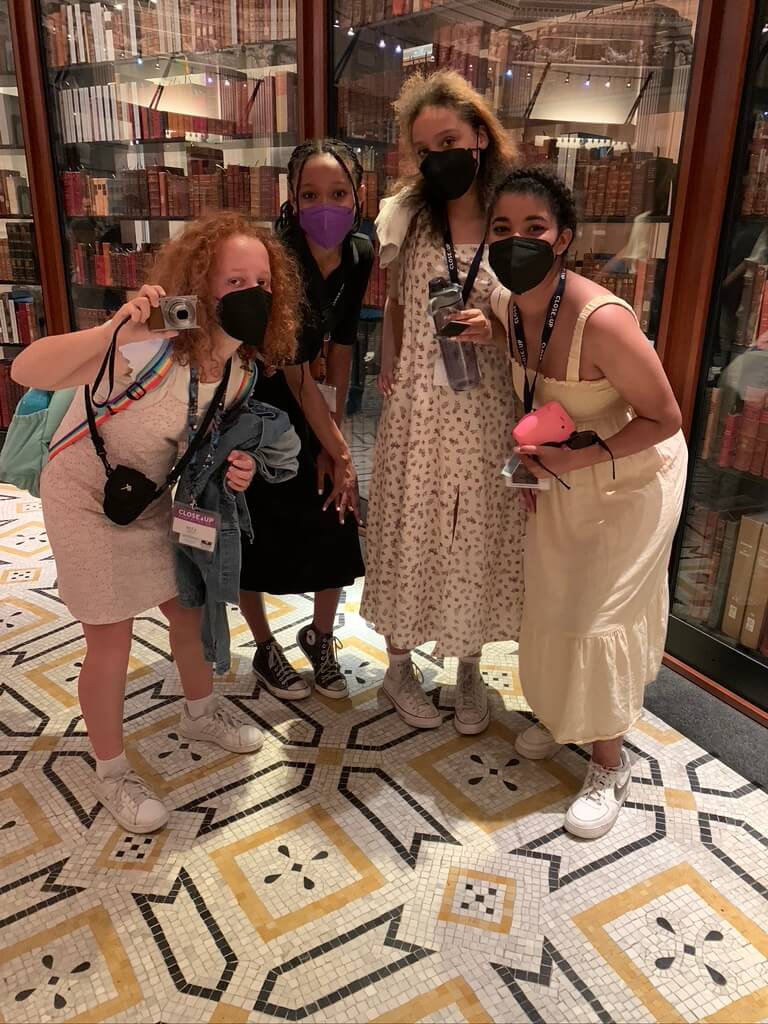 We saw some of the books Thomas Jefferson sold to the Library of Congress after the War of 1812. (A previous post mentioned he donated those books. He did not. He definitely needed the money. He was swimming in debt.) When Jefferson offered to sell his personal library to them, he wrote in a letter, "I do not know that it contains any branch of science which Congress would wish to exclude from this collection . . . there is in fact no subject to which a member of Congress may not have occasion to refer," which almost seems like a veiled insult. But at the same time, can you imagine any member of our Congress today leisurely reading the tomes of philosophy and science Jefferson and many of his contemporaries did?!
Then the kids got to meet with Ethan Dodd, a representative from Jimmy Gomez's Office (D-CA 34th District) who fielded a number of questions from students who asked about the recently passed gun bill in the house, how someone gets involved in politics, and all the cool (and scary) things he's seen over the last few years working in Congress. As they left the Capitol, the kids felt the impact and importance of the legislative process.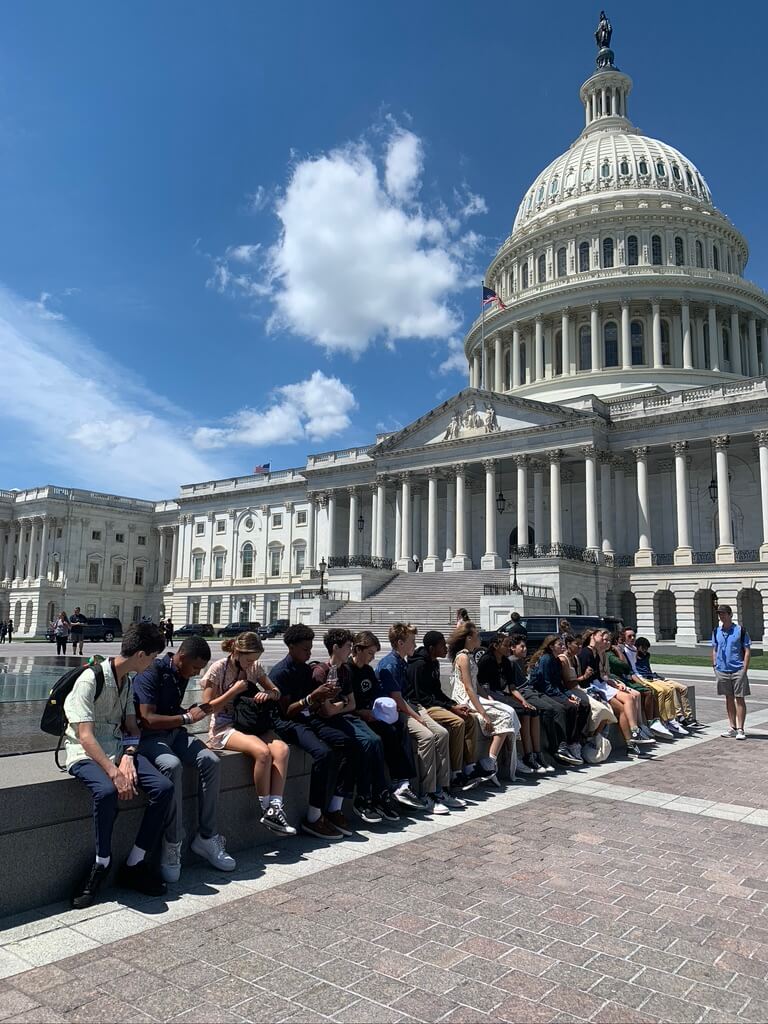 After the Capitol, we headed to lunch at Eastern Market. Like yesterday in Chinatown, we split into different groups and hit up three different restaurants. Each group felt they made the best individual choice of food, so we'll call that a success. Then we hopped back on the bus to head toward the United States Holocaust Memorial Museum. 
On the bus ride, the kids discussed the warning signs of genocide, particularly (but not limited to) the warning signs leading up to the Holocaust. During the height of the pandemic a couple years ago, Mr Brannan recalled reading a survey, or at least thought he recalled, that nearly two-thirds of young adults in the US aren't aware that 6 million Jewish people were exterminated during the Holocaust. Nearly half of those surveyed could not name a single concentration or death camp. Nearly a quarter had some belief or impression the Holocaust was exaggerated or a myth or were unsure about it in some capacity. We double checked Mr Brannan's recall, and it's true. Mr Brannan said he maybe tried not to remember because the findings were so disheartening. But, of course, that's why we must remember these things. That's why they must be taught. The Holocaust Memorial Museum knocks the wind out of you; it grabs you by the collar and shakes you. And it should!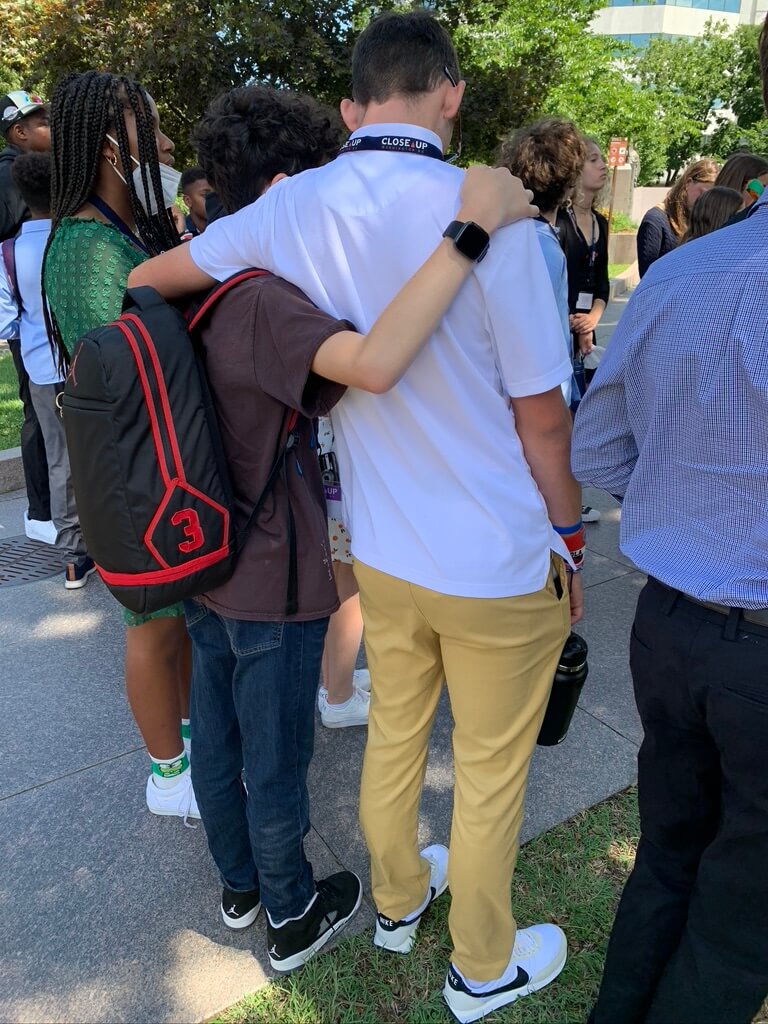 Like the African American Museum of History and Culture we visited yesterday, the horrors of the events need to be put on full display. Young people need to learn about it. And your 8th graders are excellent at engaging in discussions about what humans in the past did wrong and how we, as a society, need to be better moving forward. They are bombarded with more misinformation than we ever were growing up. In the same survey mentioned above, over half of young people reported seeing the Nazi symbol in social media posts, and nearly half reported seeing posts about Holocaust denial. Similar misinformation can be seen on social media pushing forward a false narrative about the Civil War and Reconstruction and the race-based American institution of slavery that was codified into American laws. But, because your students are so readily able to engage with the horrors of our past, since they're quickly developing the ability to look critically at false information they see online and peddled by bad actors, we have no doubt they'll be ready to stand up to bad information and combat it. They certainly won't be influenced by it. They inspire us, their teachers, that there is the possibility for a brighter future guided by their hands, their hearts, and their minds. 
After exiting the museum, the kids reflected on what they'd seen—
What parts of the museum had the greatest impact on you?
Maddie: "Jews, even after they were free, were displaced."
Asa: "The videos of the medical experiments."
Clare: "The amount of shoes and hair."
Jaeli: "The glass case of the Torah ripped up by Nazis left on the street."
Sam M: "The children. Seeing the children."
What are the warning signs?
Daniel: "Hate crimes."
Zoe: "Stripping away rights. They 'normalized' it."
Charlie: "Silencing political opponents."
What responsibility do ordinary citizens have to take action?
Leila: "There is a lot of responsibility that comes with being an outsider because you have to step up and take action to help those being affected by the issue."
What lessons can we learn or should we learn from the holocaust to prevent future atrocities?
Gavin: "Killing is never the solution."
Caleb G: "Be more aware and not wait until it's over to step in."
For dinner we headed back to Old Town Alexandria for one last family meal at Fish Market. The kids enjoyed another delicious meal of hamburgers and chicken strips (yes, at a restaurant specializing in seafood). Meanwhile the adults, fatigued from not seeing any greenery for the last few days, chose to eat a salad with salmon. We kept the fun rolling, however, with a small serving of ice cream to finish dinner. When we arrived at the bus, Max showed off his dance moves as he felt the beat of a nearby drummer in his soul! (See pictures below.)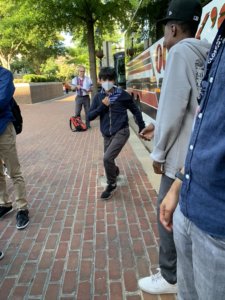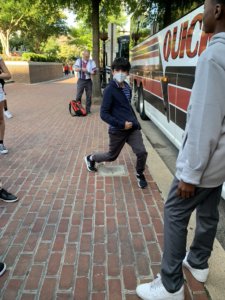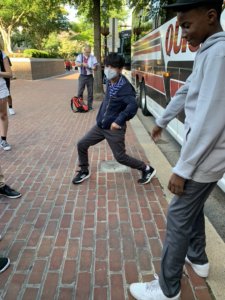 After dinner, we boarded the bus and headed to the Lincoln Memorial and the Vietnam and Korean War Memorials. Upon our arrival our guides gave us this important quote to ponder:
War Memorials . . . represent benchmarks in American history and sacrifice. These pieces of concrete and metal are not just decorations . . . they are tributes to lost lives. . . . A war memorial gives us a sense of our past, and [they are] extremely important [reminders] that a whole lot of people sacrificed . . . . we should always remember that. 
– Karl Lietzenmayer 
With that knowledge in mind, we took a walk and visited the Korean and Vietnam War Memorials. These memorials are a powerful indication of the things we cherish and respect. The students were amazed and in awe as individuals left hats, flowers, cards, and even jotted down names of the lives lost.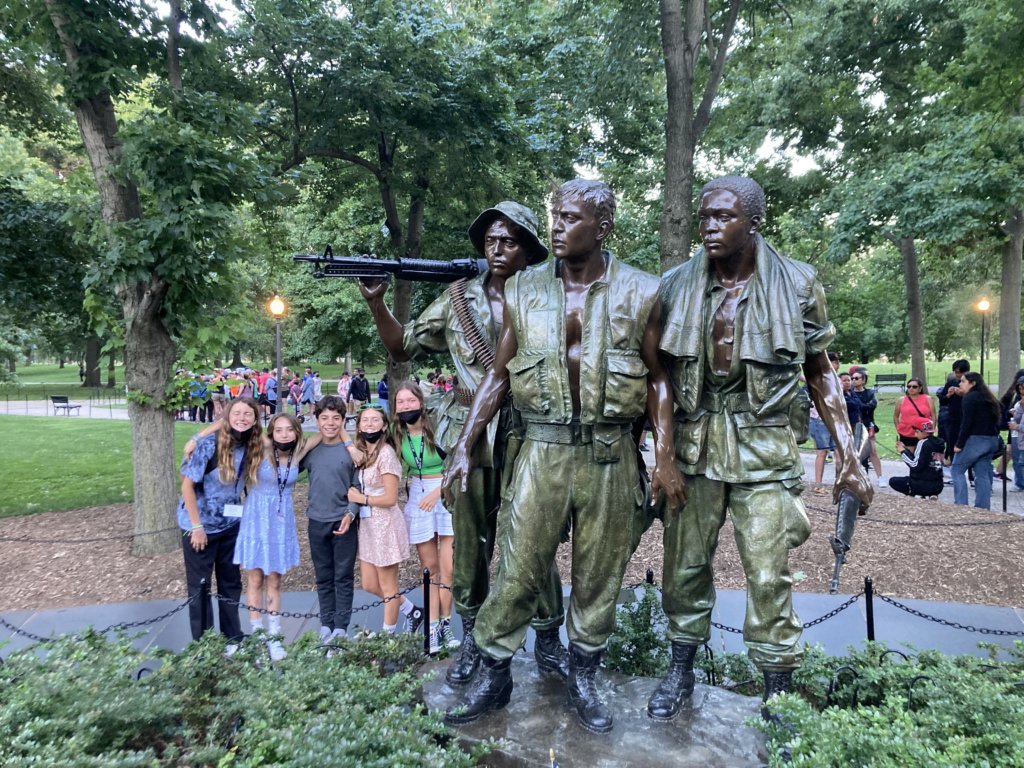 We then set our sights on the Lincoln Memorial. On the way to the steps, Hamish joyfully mentioned, "Memorials are cool, but I think the fireflies are my favorite." The sun was setting and a fair amount of fireflies were humming around the greenspace. And Hamish wasn't the only one enthralled. Even Lincoln couldn't beat the glowing flies of the night! 
But after a while, the "glow bugs," as Zeke referred to them, lost their initial luster, and the students made their way up the famous steps of the Lincoln Memorial. Students roamed and explored every inch of the monument. They sat by the steps and took in the breezy sunset. They stared across the reflecting pool at the Washington Monument, and they stared down at the spot where Martin Luther King Jr. once stood.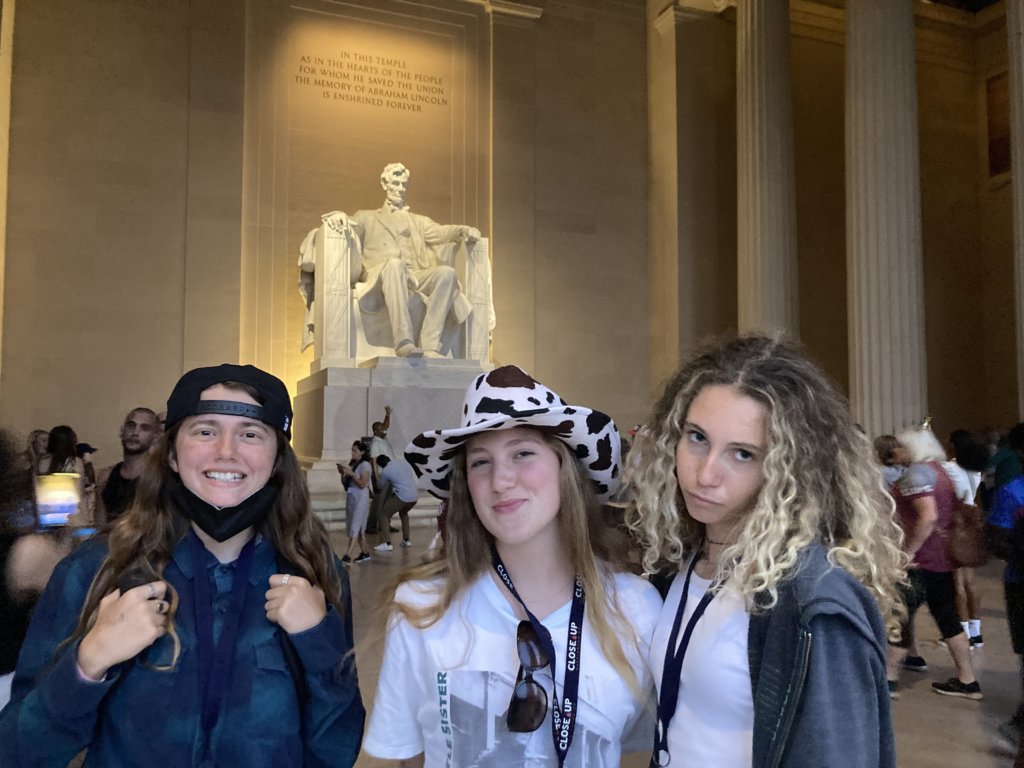 Other highlights of the Lincoln Memorial, according to your kids— 
Sam S:  Eating SpongeBob popsicles
Presley:  Running into a volleyball opponent from California
Henry F:  The purchase of a red, white, and blue flashing lightsaber
Many girls:  Looking at the prom dresses of high school girls taking pictures in front of the reflecting pool
Magnus:  Also the high school girls in their prom dresses
Once a high school prom student hopped on a mic, that was our cue to head to the busses. By this point, we'd been on the move for thirteen and a half hours. This should have meant the kids were tired and a bit less energetic on the bus ride back to the hotel, right? Mr Brannan thought so. But the kids surrounding him in the back of the bus were fueled by some hypnotic concoction of various sugars that fueled banshee-like howls, goat sounds, and other screeches of the night. As soon as the bus stopped at the hotel, he happily scurried off the bus, and the chaperones dismissed the kids to their rooms to, fingers-crossed, pack and, double fingers-crossed, sleep.
Tomorrow's our last day in DC, but we still have a few more places we're excited to see. We'll be visiting the Pentagon 9/11 Memorial, the National Archives, and the Udvar Hazy Center. Then, we'll be headed to Dulles to catch United Airlines flight 2276. We'll be arriving in LA at 8:10pm with your kids, so we'll see you shortly thereafter in baggage claim!